K-Culture Special: How Do Koreans Celebrate Christmas?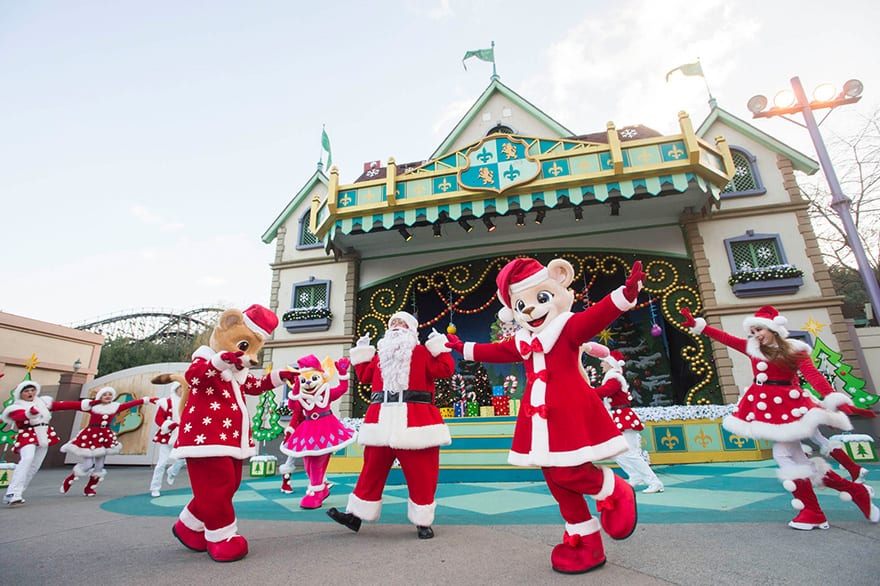 A special time of the year has come around once more! Lights, mistletoe, Christmas trees, and shopping for presents are some of the traditions of the season. Christmas is the time we spend with family and friends, but how do Koreans (specifically those in South Korea) celebrate it?
If you walk down a busy street, you'll see some similarities to the West: Christmas lights are hung in stores, sentimental music plays, and sales keep people busy. However, you won't see many houses decorated as it is not quite common to do so. Christians make up approximately 30% of the population of South Korea, so some people may go to mass or special church services. However, the holiday is also becoming more popular among non-Christians as well. The population gets to enjoy the day off from school and work (yay!) as South Korea is the only East Asian country to classify Christmas as a national holiday. Don't celebrate for too long, however, because you have to be back at work or school the next day. New Year's Day is the time of year with a longer break for families to enjoy.
In the Western world, Christmas is one of the biggest holidays as family members try to make it back home to celebrate with loved ones. In Korea, however, Christmas is similar to Valentine's Day. It is a day to celebrate with a significant other. If you're single, you hang out with friends. Gift-giving isn't that common yet unless it is to your special someone. However, recent years has made it more popular for parents to give their children Christmas presents as well. A popular Christmas present in Korea? Money! Despite this, Christmas presents are not the push for the season. In fact, when you do exchange presents, usually only one present is given versus the stacks of presents often given to family and friends in the West.

The Korean tradition of spending Christmas with your significant other is the complete opposite of the West as those countries tend to celebrate the New Year with friends and significant others while Christmas is for families. In fact, Christmas is such a popular season for couples that various "Christmas packages" are offered at hotels and booked months in advance, hourly hotels are booked solid, and sexy lingerie is an in-demand present.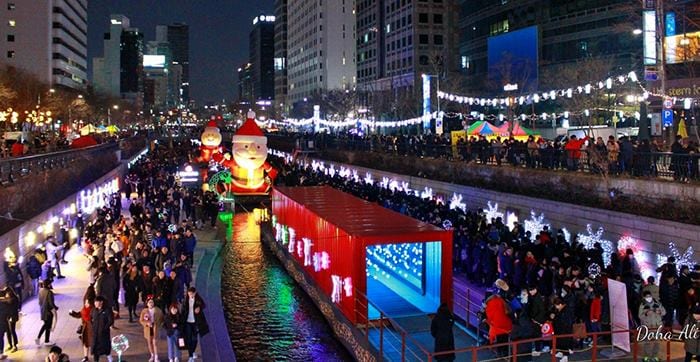 Due to the large expatriate community in Seoul and the exposure to non-Korean traditions through movies like "Home Alone" and more, Western Christmas traditions such as large Christmas dinners and brightly decorated trees are becoming more popular. However the most popular dessert for Christmas in Korea isn't pumpkin pie or cookies! The most popular dessert for a Korean Christmas is actually cake. Steamed rice cake topped with fruit is very popular or sometimes even an ice cream cake is eaten. For Koreans, their potluck-style Christmas meals usually include bulgogi, japchae, kimchi, steamed pears, sugar candy, and persimmons with walnuts.

In the meantime, Santa isn't always spotted in Korea wearing his red and white outfit. "Santa Grandfather" (산타 할아버지), as he is called in Korea, often wears blue and is usually shown in more traditional Korean clothes. Meanwhile, department stores and those who push shopping for the holidays tend to use the traditional Santa figure in red.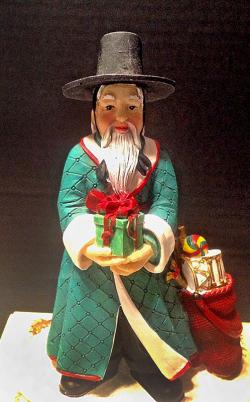 If you're in Korea during the Christmas season, what can you do? People visit an outdoor skating rink, go sledding, or even do both. Lotte World and Everland are very popular with their Christmas-themed events throughout the parks. You can also go shopping in the major districts and take advantage of the holiday sales. You can even find some local fairs or festivals such as the Seoul Christmas Festival or the Sinchon Christmas Festival. If you'd like, you can also attend a mass or services at any of the local churches in the area. A popular mass to attend at Christmas is the one at the Myeongdong Catholic Cathedral. Many couples like to enjoy a special dinner and date together. However, if none of those things appeal to you, others also choose to simply stay home and watch Christmas movies on television. Two popular films to watch (apart from the vastly popular "Home Alone" movie as already mentioned) are the Korean films "Mug Travel" and "Merry Christmas Mr. Mo."
However you decide to spend Christmas, make sure to enjoy the company of others and have fun (whether you are religious or not). For many people around the globe, the most important part of the holiday is spending time with your loved ones and reflecting on the past year.

In the meantime, although some of the Christmas and holiday traditions in Korea may be different than in other parts of the world, we know you will enjoy visiting this beautiful country during this special time of year!
What The Kpop wants to wish all our readers a very Merry Christmas this year and always!
Media: As Credited
Featured Image: Everland via Klook