Celebrating The 13 Original Members Of Super Junior For Their 13th Anniversary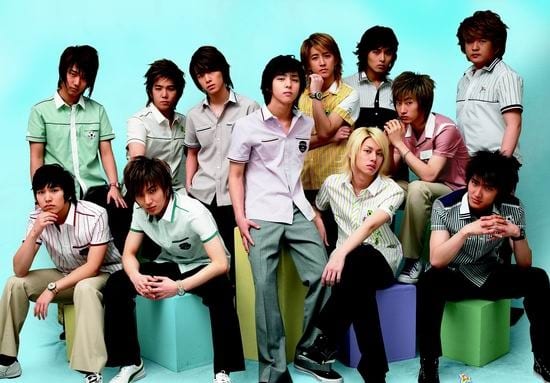 Super Junior is a name that can't be missed the second you delve into the world of K-pop. These Korean entertainment giants still lead charts and headlines to this day, even after 13 years and in a very different industry than it used to be!
Super Junior debuted on November 6th, 2005, as Super Junior 05 with their song "Twins (Knock Out)." With 12 members at the time, the group took on an edgy, rock-rap track with strong lyrics. After dropping the "05" in the name and adding member Kyuhyun to their final lineup six months later, the new Super Junior then released their chart topping track "U" in early 2006.
The name 'Super Junior' represented the new idea of an idol group that would have a rotating roster with the members being collectively good at everything: from the expected singing and dancing to hosting, emceeing, acting, variety, and comedy. The goal was to be the recently debuted juniors who were as talented as their seniors and quickly take over the entertainment industry. They did just that, building an incredible career for themselves and gaining the hearts of millions around the world in the process.
It wouldn't have been possible to reach this level of success without the teamwork of the group and how each member brought their own distinct style to the table in order make Super Junior what it is today. Come join this E.L.F (Super Junior's fan club name, meaning Ever Lasting Friends) as we celebrate the 13 members of Super Junior for their 13th anniversary!
*this list is in birth order*
1. Leeteuk
Leeteuk (Park Jungsoo) is a man-made up of sweet smiles and absolute leader material. However, this quirky boy with a hilarious laugh will surprise you with his charming and sexy stage presence. He can pick up any part needed in a song, from vocal riffs to rap verses. His hilarious antics and outgoing personality are perfect for being a radio BJ or show MC, and Leeteuk has made a more than successful career for himself doing just that! It just doesn't feel right without this leader there to make sure every member is together before beginning their distinct group introduction. The loyalty and love he has for his members led fans to feel a sense of family and love from Super Junior right from the beginning. His stage name means special, and we have to agree!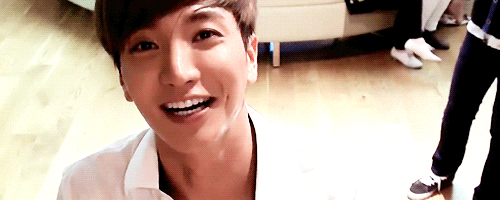 2. Heechul
Heechul (Kim Heechul) is, and has always been, known for his sharp tongue and beautiful, feminine looks. Often sporting long hair to accentuate his inner and outer beauty, this slightly eccentric singer is also incredibly musically talented with an amazing voice to boot! Heechul has been a stable cast member on so many variety and reality shows over the past 13 years, even juggling recording six shows at one time this past year. On top of that, Heechul has had various other musical projects just as M&D, Universe Cowards, and even solo tracks. Due to his friendly attitude and deep sense of loyalty, Heechul is also known for having many close friends in the entertainment industry! His pretty face pulled the fans in, and his hilarious retorts kept people entertained.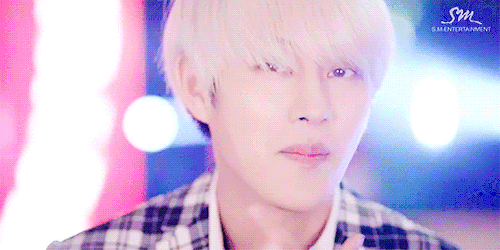 3. Hangeng
Super Junior's only Chinese member Hankyung (Hangeng) was not only a sweet and down-to-earth guy, but he was also an incredibly talented dancer for the group! Hangeng knew various traditional Chinese dances on top of being proficient in hip-hop, urban, and jazz dance. His charming personality transferred onto stage well, yet he was a bit of a dork off stage. Sadly, following disputes with SM Entertainment of fair treatment and unsolved issues of performing as a foreigner on live television, Hangeng filed for contract termination and returned to China. Since 2010, Hangeng has continued a successful singer/actor career in China. His stage presence stole the focus of many people, and his strong expressions on stage shook them to their core.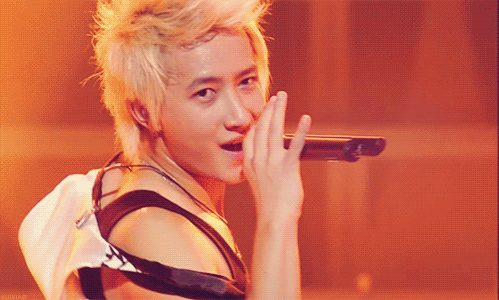 4. Yesung
Yesung (Kim Jongwoon) is the fashionista, the ever emotionless, philtrum-obsessed, incredible power vocal of Super Junior! The fourth oldest of the group was always thought of as one of the younger ones among fans due to his fun personality and hilarious antics. Having owned his own fashion sunglasses line, maintaining a successful solo career, and even getting his hands into music producing, Yesung has proven himself a talented businessman underneath that quirky laugh of his. His strong and raspy voice is perfect for hitting those power notes in many of Super Junior's songs. His mysterious and quirky personality was enough to intrigue fans and his voice (along with Ryeowook and Kyuhyun) helped shape that distinct Suju sound they have now.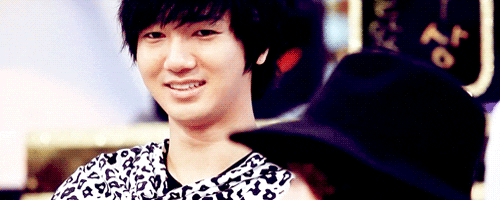 5. Kangin
Kangin (Kim Youngwoon) is the big brother of Super Junior, a mature guy who also never lets down his sense of playfulness. He is always making sure everyone is doing their best and, if not, you know he will be messing with one of his fellow members. Despite his stature and fun, quipping nature, Kangin has an incredibly sweet voice that can light up any song and display the emotion of any ballad. Kangin was the first Super Junior member to fulfill his required military service back in 2010. He returned to be active with Super Junior during "Sexy Free and Single." Currently on hiatus from Super Junior activities, Kangin's strong looks have always brought up the overall masculine look of Super Junior, yet his bright, fun smile never cease to make fans smile in return.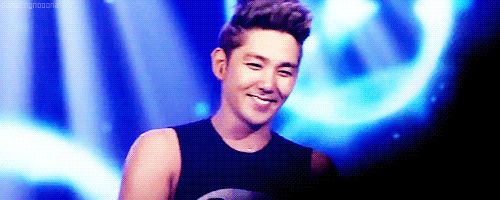 6. Shindong
Shindong (Shin Donghee) is one member that isn't easily forgettable! His personality was practically made for television and his dance skills are out of this world! Doing an incredible job mixing old-school, hip-hop dance with a comedic flair, he always does his best to astound viewers and make them laugh, no matter what show he may be on. Not only does he regularly choreograph for other groups and projects, but he also writes music on his own time. He is even an active music video producer having produced "Oppa Oppa" by D&E, "Marry Man" with UV, "Lemonade Love" by NCT's Mark and soloists Parc Jae Jung, and many more. He has even helped with Super Junior's "Evanesce," "This Is Love," and more! Shindong is another (like Heechul) known for his huge group of close friends, including others in the entertainment business. With so many connections, Shindong can always create an entertaining and fun environment— something that Suju is known for!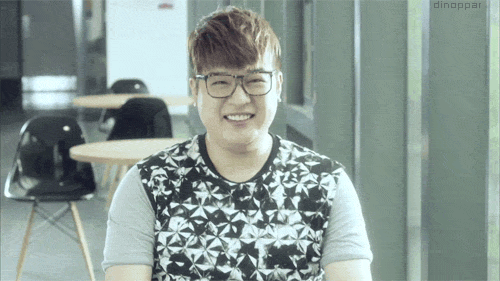 7. Sungmin
Sungmin (Lee Sungmin) is an extremely pretty person both inside and out. His personality has always been bursting with a friendly nature with musical talent that matched 100%! Sungmin was always trying to push the envelope on what could and couldn't be done. Therefore, he became a jack of all trades! At any one point in Suju's career, Sungmin was a main vocalist, main dancer, even did a little bit of rapping! On top of being popular on variety shows, Sungmin was also a regular host on radio broadcasts, as well as the star in many professional theatre productions! He is also known for being incredibly sexy and having incredible expressions on stage. After announcing his marriage to fellow theatre actress Kim Saeun in 2014, he began a hiatus from Super Junior activities.  Regardless, many fans wait patiently for the day he returns to the group to make music once again. Back in March of this year, fans were given the chance to hear him in a solo song in the SM STATION track "Day Dream." His sweet and loving actions made people swoon from the beginning and his just-as-sweet voice kept people wanting more.

8. Eunhyuk
Eunhyuk (Lee Hyukjae) is a man who has a stage presence like no other. His dance skills are out of this world, and he was way ahead of his time during the early years. Many idols— both in the previous generation and the most recent one— have noted Eunhyuk as someone they look up to, especially when it comes to dancing. Having had his hand in choreography for Super Junior (along with Shindong and Donghae) for years now, it's no wonder Eunhyuk's style feels so unique to the group. He and best friend Donghae make up the duo Super Junior-D&E as well. Not only have they sold out concerts in Korea and Japan, but they have also been to international concerts such as KCON. Eunhyuk was extremely active on television as an MC and variety personality and continues to work on TV now. While Leeteuk was fulfilling his military service, Eunhyuk even stepped in to be the fill-in "leader." His dance skills amazed people from the get go, and his hardworking demeanor and competitive spirit helped shaped Super Junior into who they are now.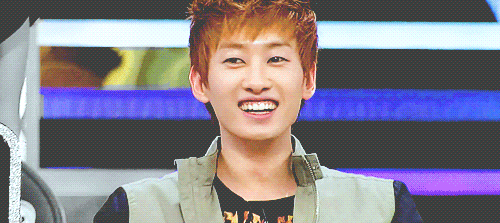 9. Donghae
Donghae (Lee Donghae) is a force to be reckoned with! Not only is this boy bursting with good looks and a good heart, but his talent is endless! Dancing, singing, rapping, acting, variety… he does it all! He is the other half of Super Junior-D&E and was active in many other Super Junior projects as well. He is known as the heartthrob of Super Junior, with dashing looks and a secretly adorable side to him. Donghae is the perfect representation of the fun-loving, yet extremely hard-working, Super Junior.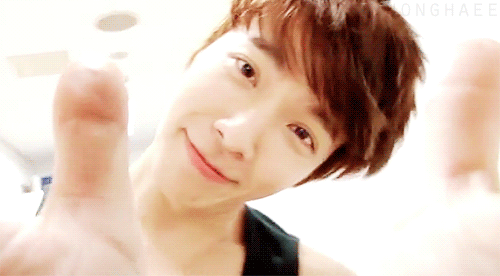 10. Siwon
Siwon (Choi Siwon) initially comes off as incredibly mature, with an air of elegance about him. Just as true as that is, so is his exuberant and lively personality that hides inside. He often displays hilarious expressions, and was given the title "man of reactions." Siwon is definitely known as the visual in Super Junior with his incredibly chiseled face and body at the forefront of all Super Junior photo shoots. Not only is he beautiful, but Siwon is an incredibly giving and down-to-earth person. He frequents third-world countries and donation events to help those in need, even being able to give his own words of wisdom at these events. On top of this, Siwon is incredibly active in acting, having been in over 10 different dramas, as well as films. His handsomeness brought in fans, but his sweet heart kept them there!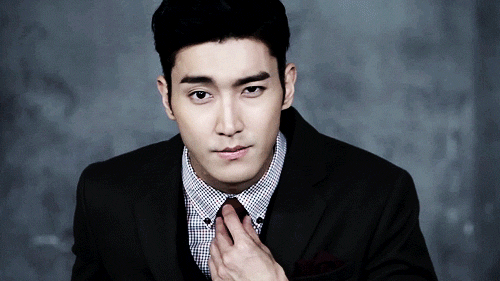 11. Ryeowook
Ryeowook (Kim Ryeowook) has the voice of an angel, and the heart of one too. He can be cunning at times and surprisingly sharp tongued, but it's always with intentions that are pure! The rest of the members are seen regularly doting upon him, and as he pretends to detest them for it, he loves them just as much and will happily say so. Ryeowook has released many solo tracks in the past which all charted in high ranks. Not only active in music, Ryeowook is active in musicals, theatre, and radio as well! Despite many members of Suju taking turns over the years, the most famous radio BJ for SuKiRa (Super Junior Kiss The Radio) was Ryeowook! This attitude of working hard and proving that your talent may be more than what it seems on the outside is something Super Junior always strive for, and Ryeowook is no exception to the rule.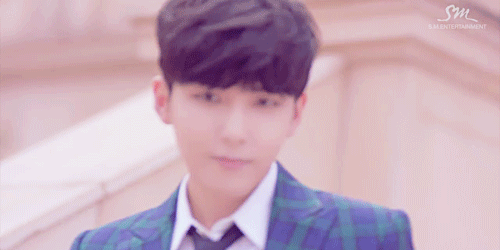 12. Kibum
Kibum (Kim Kibum) was a member who was with Super Junior from the very beginning until the "Sorry Sorry" and "It's You" age. Many early fans remember him well due to his good looks, his bright smile, and surprising rap style. Kibum would always brighten the atmosphere and bring up the mood of the room, despite how quiet he usually was. He was the only member during the early years who was fluent in English as he lived in America for years. In fact, Kibum was scouted while walking around L.A.! Despite the love he had for his members, he halted activity with them in 2009 in order to focus on his career as an actor. He remained inactive until 2015 when it was officially announced that his contract had ended and he was no longer a member of Super Junior. He definitely created some golden moments in Super Junior history (especially in their show "Super Junior Full House"), showing that no matter what, you are always considered a member of Suju.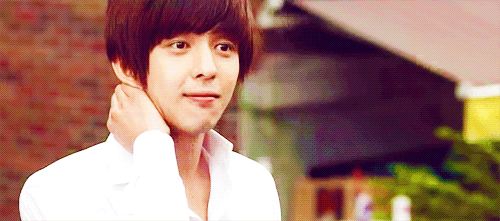 13. Kyuhyun
Finally, we have our precious (and terrible) maknae, Kyuhyun! Of course, not literally terrible! Kyuhyun (Cho Kyuhyun) is just known for being a bit of a bully to his hyungs, but all in good fun! Having joined six months after Super Junior's debut as Super Junior 05, Kyuhyun became a pinnacle of Super Juniors evolution, and the addition of his sultry voice brought them quickly into fame. A serious wreck, involving many members of Super Junior back in 2007, left Kyuhyun in a coma and in really bad physical shape. After an emotional few months and a lot of support from the band, family, and countless fans, Kyuhyun became more medically stable and was able to eventually continue his career with Super Junior. Not only was Kyuhyun in other projects like SM The Ballad, but he has had an incredibly successful solo career with album sales into the collective hundred of thousands. He is also an active MC on various variety and talk-show programs. Currently fulfilling his military service,fans are counting down the days until he returns to the entertainment scene. Once he returns, all active members will have finally fulfilled their service!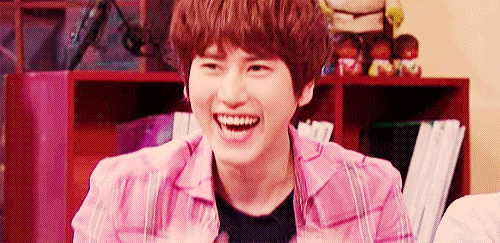 ---
Currently, Super Junior has eight active members: Leeteuk, Heechul, Yesung, Shindong, Eunhyuk, Donghae, Siwon, and Ryeowook. Of course, we have to mention Zhou Mi and Henry who were both in the Mandarin sub-unit Super Junior M for years and are considered "forever members" of Super Junior as well. Although Henry Lau just recently left SM Entertainment and Zhou Mi is busy with activities in China, the members are all still very close.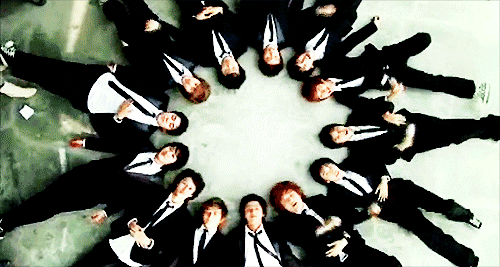 Almost all of the Super Junior members have taken to social media in celebration of 13 years together. In addition, a special video was released to thank fans for their support for so many years.
Here's to many more years of continued success of all the Super Junior members!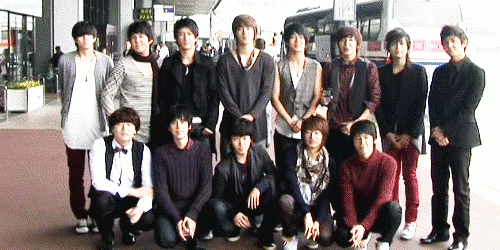 CaptainMal has been involved with Korean entertainment since 2010. She travels to conventions in her area, showcasing her "Kpop Game Show'" and occasional Kpop cosplay. Although her favorite bands are INFINITE, Super Junior, and VIXX, she boasts love for a huge variety of artists and has been lucky enough to see many perform live! Other than Kpop, CaptainMal loves Disney, 1980's rock, Daft Punk, gaming, and orange juice.