Chuseok Special: How Koreans Celebrate This Important Holiday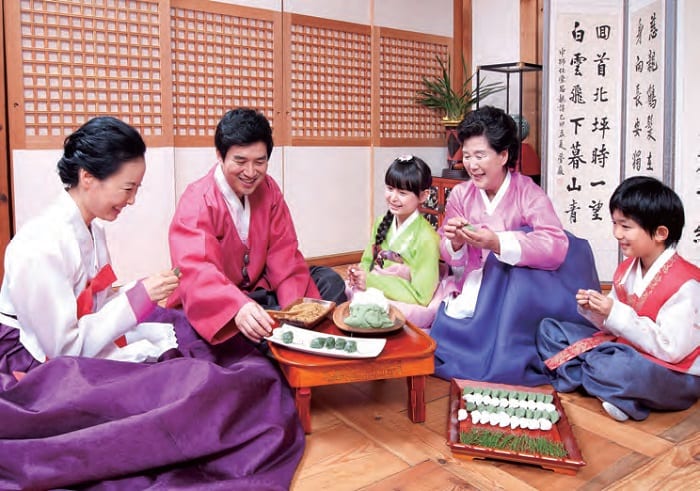 Chuseok is known as Korea's Thanksgiving Day and is one of the biggest and most important holidays in Korea!
This year, Chuseok holiday starts on September 23rd and ends on September 25th, with the main day being celebrated on the 24th.
Many Koreans visit their hometowns to spend time with their families and give thanks to their ancestors by preparing and sharing food. This holiday also marks a great opportunity to explore traditional cultural experiences within Korea.
Let's take a closer view of the traditional Korean holiday of Chuseok.
What does Chuseok mean?
MANNAM Busan South
Chuseok is one of Korea's major holidays, along with Seollal (Lunar New Year's day) and Dano (5th day of the 5th lunar month). It is celebrated on the 15th day of the 8th month of the Lunar calendar. Chuseok is referred to as the hangawi, literally known as the "Autumn Eve." Han means "big" and gawi means "ides of the 8th lunar month of autumn." This comes together to infer a great mid-autumn harvest.
It is also known internationally as "Mid-Autumn Festival" or "Harvest Moon Festival" and is celebrated (albeit somewhat differently) in other Asian countries such as China.
---
What are the customs and traditions during Chuseok?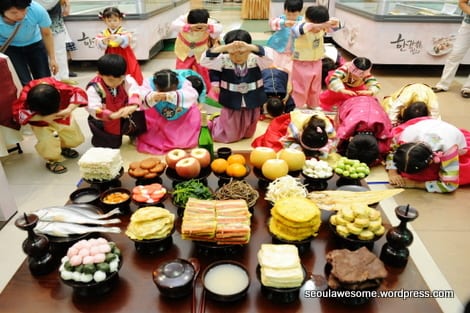 Charye: On the morning of Chuseok, families gather around their homes to hold a memorial service called the charye to give thanks and honor their ancestors.  This is due to their belief that a person is not really gone when they physically die. They believe that their spirits are still alive and protect their descendants. Family members prepare freshly harvested rice, alcohol, and songpyeon (half moon rice cakes) as their offering to family's ancestors. After the memorial service, they enjoy sharing the food and telling stories to each other. Charye is held twice a year—during Seollal and Chuseok.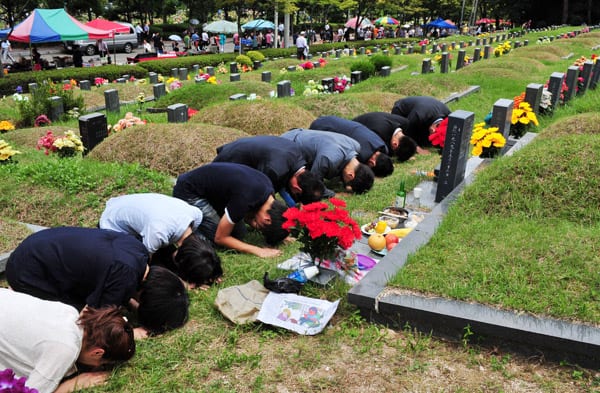 Seongmyo and Beolcho: Another traditional custom Koreans do is seongmyo, where they visit their ancestors' graves. This is still carried out as of today as a sign of respect and gratitude towards familial ancestors. During this service, they have an activity called beolcho, where family members clean the area around the grave. They also offer food and drinks. Crops are also added as representation of their blessing.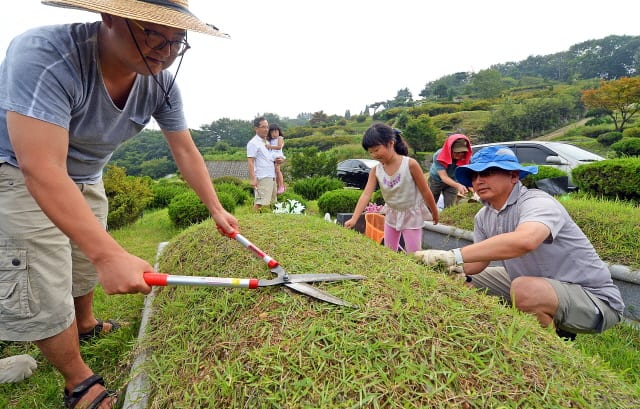 What traditional activities do Koreans do during Chuseok?
Koreans spend their Chuseok holiday by celebrating various traditional entertainment. These can vary greatly, but a few of the most common ones are explained below.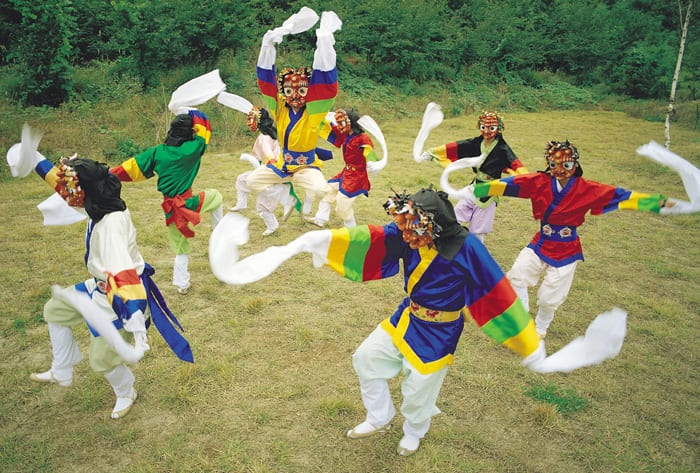 Talchum: This is a Korean dance performed while wearing a mask. It also showcases dramatic moves depending on which mask character they portray.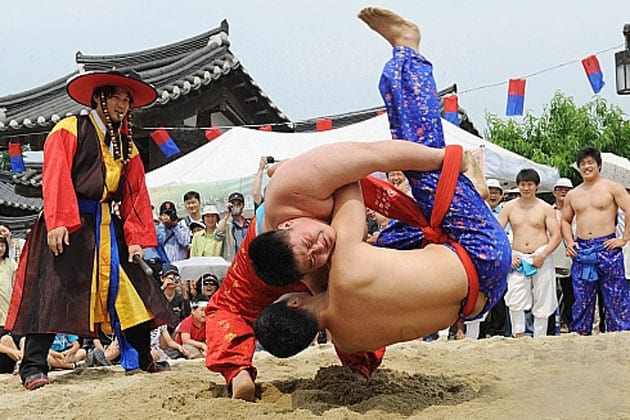 Ssireum: This is the most popular Korean sport played during Chuseok. It is traditional Korean wrestling where two men wrestle with each other as they hold tight to their opponents' satba, the red and blue bands. The winner traditionally received a bull and 1 kg of rice as a prize.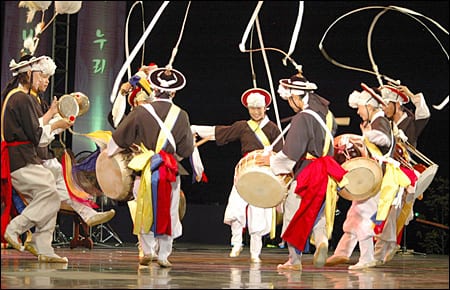 Samulnori: This is a genre of percussion music that originates in Korea. The word samul means four objects and nori means play. Hence, it is performed with four traditional Korean musical instruments.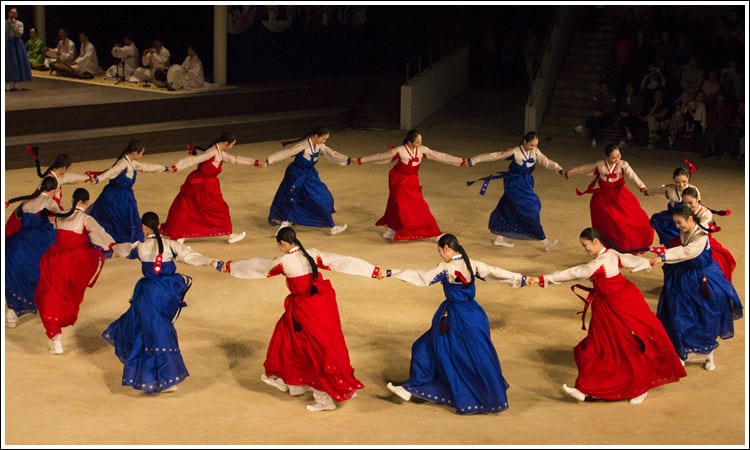 Ganggangsullae:This is Korea's traditional folk dance performed under the full moon on the night of Chuseok. Women are dressed in hanbok and make a big circle by holding hands together and singing a song while they go around the circle. It is also performed during Jeongwol daeboreum (celebration of the 15th day of first lunar calendar).
Other folk games they play are neottwigi or the Korean plank, juldarigi or the Korean version of tug-of-war, and dak sa um or the game of chicken fight.
What are the traditional foods prepared during Chuseok?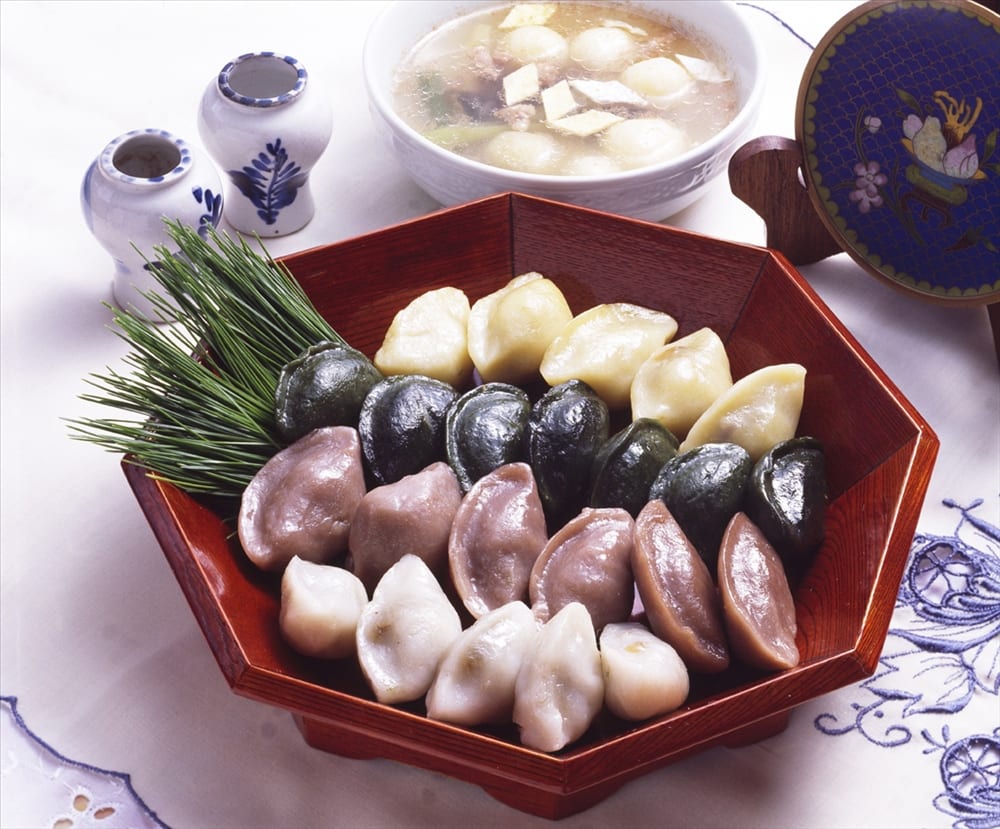 Songpyeon: To celebrate the bountiful harvest of the year, songpyeon is one of the significant foods that represent Chuseok. It's a tradition for the family members to gather together to make songpyeon on the eve of Chuseok. It is prepared with rice powder that is made into pieces resembling the shape of a half moon. It is then filled with sesame seeds, red beans, chestnuts, jujubem and honey. It is steamed with pine needles to add the fragrance of pine.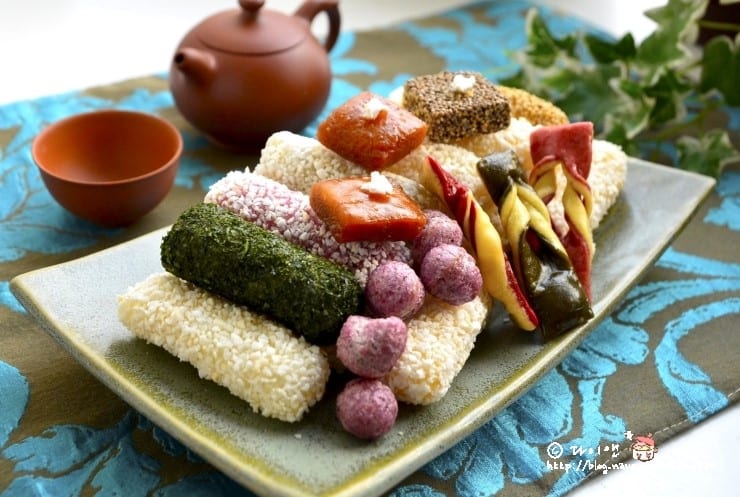 Hangwa: Another popular Korean traditional food people eat during Chuseok is hangwa. It is made with rice flour, honey, fruit, and roots decorated with natural colors and different patterns.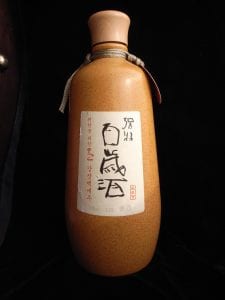 Baekseju: Alcoholic beverages are also a must during Chuseok. Liquor drunk during Chuseok is called baekju, literally called "one hundred years wine" and nicknamed sindoju (new rice liquor) as it is made with freshly harvested rice. Elders say that if you drink alcoholic beverage which ancestors have drunk, you will be fearless.
Other significant Chuseok foods are  traditional pancakes called jeon (Korean pancakes) which make a perfect match for the alcohol. Pancakes are made with sliced meat, fish, or veggies and then lightly fried in a batter of flour and eggs.
How can I celebrate Chuseok in Korea?
If you're visiting Korea during Chuseok and don't have family or friends to spend the holiday with, you can still learn a lot about the culture by visiting both traditional and modern places. Even amusement parks such as Everland, Lotte World, and Seoul Land offer special cultural events during Chuseok.
Everland Theme Park
For a more traditional look at Korea, visit one of the historical sites such as the four main palaces of downtown Seoul: Jongmyo shrine, Joseon royal tombs, Namsangol Hanoi village, or the Korean folk village in Yongin.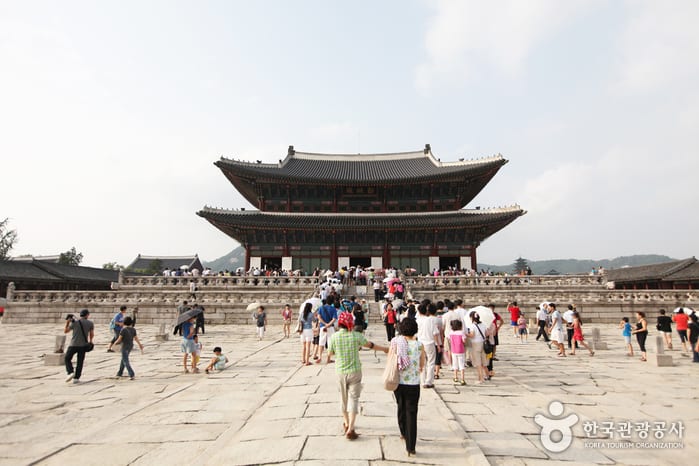 Some museums may be closed for the long weekend, but the National Folk Museum of Gyeongbokgung offers a full program of events for the holiday with the theme of Traditional Korean Culture. It is located on the grounds of Gyeongbokjung palace.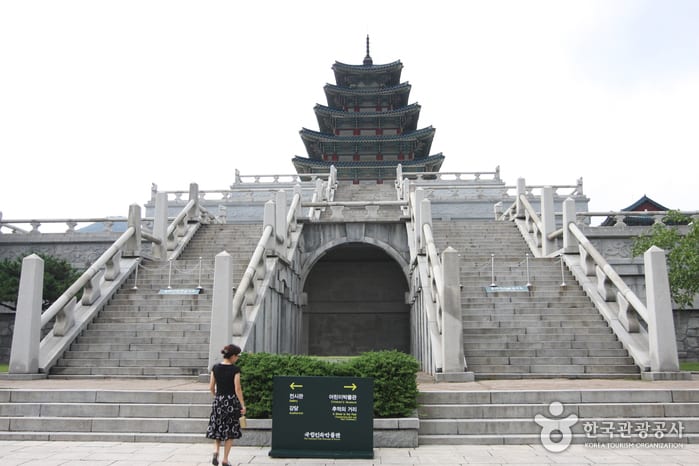 If you live overseas and still want to celebrate Chuseok, many local Korean grocery stores sell the traditional half moon cakes and other Chuseok food. As Korean culture and food is becoming more popular, many businesses and restaurants also participate in special Chuseok festivals, concerts, or events. Try searching for local Chuseok or Korean Thanksgiving events or visiting your local Korean grocery store.
---
There are, of course, many aspects to this Korean holiday, but these are a few of the traditional customs that make the event special. While not everyone may celebrate it with these old customs, I think this is a special way to honor our ancestors' long-preserved customs.
May everyone enjoy the long vacation. Have a happy and prosperous Chuseok!
ging1030 is a multi-fandom fan of Kpop since 2010. She enjoys watching Asian dramas and variety shows like "Running Man". She is an avid fan of Song triplets and Song Joong Ki.  For her, Kdrama is life. They are her inspirations in life so she can live on and do what her heart desires!
Media: As Credited
Feature Image: Korea.net